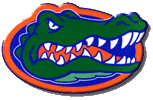 Oct. 7 @ Louisiana State &nbsp &nbsp Score=GATORS-44 LSU-15 The second ranked gators and Rex Grossman threw five touchdown passes for the second straight game and set a school record with 464 yards passing as the Gators beat the Tigers 44-15 in Baton Rouge. Grossman threw for over 300 yards for a school-record fifth straight game. Grossman completed 22 of 32 passes for 464 yards and five touchdowns. He threw first quarter touchdown strikes of 13 yards to Taylor Jacobs, 34 yards to Reche Caldwell and 63 yards to Jabar Gaffney. Grossman broke the school single game passing record set by Danny Wuerffel, who passed for 462 yards against Arkansas in 1996. His five touchdown passes tied a career-high, established last week against Mississippi State. Grossman's second touchdown pass of the game to Gaffney late in the second quarter gave the Gators a 27-9 halftime lead. In the second half, Jeff Chandler booted a 41-yard field goal, Grossman connected with tight end Aaron Walker on a seven-yard touchdown pass and Brock Berlin threw eight yards to Kelvin Kight for another TD to complete the Gator scoring
---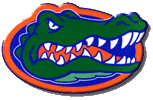 Oct. 13 @ Auburn &nbsp &nbsp Score=AUBURN-23 GATORS-20 After five games' worth of some of the most potent, prolific offense ever seen by Florida fans, the top-ranked Gators (5-1, 3-1 in SEC) went into a severe funk Saturday night, resulting in a painstaking - 23-20 upset loss to Auburn. When it was over, one Jordan-Hare Stadium goal post had tumbled, as had Rex Grossman's Heisman candidacy, and perhaps the Gators' national title hopes. While recording his sixth 300-yard passing game in a row, Grossman (25-for-42, 364 yards) tossed four interceptions. "Little things add up, Spurrier said". "We couldn't pull it out at the end. We kicked our butts".
---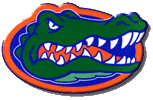 Oct. 27 vs. Georiga @ jacksonville Score=GATORS-24 GEORIGA-10 The Gators committed four turnovers and 106 yards in penalties, but got enough offense - and timely big plays on defense - to register a 24-10 victory before 84,401. "With a few mistakes here and there, I thought we played pretty well," said quarterback Rex Grossman, whose second 400-yard game of the year was smudged by two interceptions. "The score probably could've been higher than it was, but we're just glad we got a victory." Despite amassing more yards (584) than they ever have against Georgia, the Gators (6-1, 4-1 SEC) still needed three critical fourth-down stops in the second half to seal things."We're really proud of our team," Florida coach Steve Spurrier said. "A lot of stuff happened out there tonight. Of course, Georgia left some points out there also. They had some drives and got nothing in the second half, so it worked out for us." Now, the Gators appear to be back in the national title picture after five teams ahead of them in the BCS standings lost Saturday.
---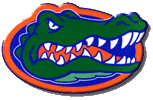 Nov. 3 - Vanderbilt (homecomeing) &nbsp &nbsp &nbsp Score=GATORS-71 VANDERBILT-13 Rex Grossman and Brock Berlin each threw three touchdown passes as the third ranked Florida Gators roared past Vanderbilt 71-13 before a homecoming crowd of 85,052 at the Swamp in Gainesville Saturday. It was the most points scored by the Gators in an SEC game since scoring 73 against Kentucky on Sept. 10, 1994. The Gators bolted out to a 24-0 lead in the first quarter and built a 37-0 advantage by halftime. A 28 point third quarter gave Florida a 65-0 lead. Earnest Graham got the lopsided victory off and running with a pair of touchdown runs - of two and five yards - in the first quarter. Grossman threw his 25th touchdown pass of the season - an eight yard toss to Jabar Gaffney - to give the Gators a 21-0 lead. Jeff Chandler capped the first quarter scoring with a 37 yard field goal. In the second quarter, Grossman threw a 13 yard touchdown pass to Taylor Jacobs and a 19-yarder to Reche Caldwell to expand the lead to 37-0 at the half. Grossman didn't play in the second half. He finished 17 of 29 for 306 yards. He has now thrown for over 300 yards in eight consecutive games. Backup quarterback Brock Berlin was happy to get playing time. He threw touchdown passes to Taylor Jacobs, Carlos Perez and Kirk Wells in the second half. The three scores a career-high for Berlin.
---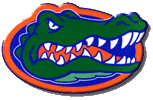 Nov. 10 @ South Carolina &nbsp &nbsp Score=GATORS-54 SOUTH CAROLINA-17
The third ranked Florida Gators spotted South Carolina a 7-0 lead then roared back to score 44 unanswered points enroute to a 54-17 win over the Gamecocks Saturday night in Columbia. Rex Grossman threw three touchdown passes and sneaked in for a fourth as the Gators moved to within one victory of claiming the SEC East title. The Gators fell behind 7-0 in the first quarter after the Gamecocks recovered a Lito Sheppard fumbled punt. Derek Watson scored from seven yards out on the first play after the turnover to give South Carolina the early lead. After Jeff Chandler and Daniel Weaver exchanged field goals, the Gators went on a 44-0 run. Florida receiver Jabar Gaffney tied the game 10-10 when he caught an 11 yard touchdown pass from Rex Grossman with 1:44 left in the first quarter. Grossman's one yard plunge gave the Gators a 17-10 second quarter lead. Jeff Chandler booted a 36 yard field goal to add to the lead, 20-10. However, the play that sharply turned the momentum of the game towards the Gators was Marquand Manuel's interception of a Phil Petty pass on the next South Carolina possession. It set up Grossman 11-yard touchdown pass to Reche Caldwell that gave Florida a 27-10 lead with 26 seconds to play in the first half. Defensive end Alex Brown got his hand on the ball while rushing Petty, forcing the key turnover. Jeff Chandler booted a pair of field goals - from 44 and 46 yards out - and Travis Carroll got the first touchdown of his college career as the Gators opened up a 40-10 lead after three quarters. Carroll intercepted a Phil Petty pass and returned it 24 yards for the touchdown.
---
Shop Sportmart.com for NCAA Gear!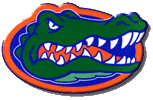 Nov. 17 - Florida State &nbsp Score=GATORS-37 SEMINOLES-13
The Gators snapped a three game losing streak against state rival Florida State with a 37-13 win before a record crowd of 85,732 at the Swamp in Gainesville. Rex Grossman threw a pair of touchdown passes and sneaked from one yard out for another score as the Gators improved their record to 9-1. The Gators opened the first half with a 20-3 lead. The scoring began in the first quarter with runningback Earnest Graham running in from two yards out. The key play in the drive was Jabar Gaffney's 40-yard pass to Graham on a trick play that caught the FSU defense by surprise. Grossman also hit Taylor Jacobs with a six yard touchdown pass and Jeff Chandler booted field goals from 36 and 38 yards out. Senior safety Marquand Manuel stopped Chris Rix short of a first down after Rix caught a pass from runningback Nick Maddox. But the Gators gave the football right back to FSU when Micheal Bouleware intercepted Grossman and went out of bounds on the Gator 11. Once again, the Gator defense stiffened and FSU had to settle for Xavier Beitia's 23-yard field goal. The Gators led 20-6 and Manuel says that was a key play. Gaffney caught the clinching touchdown for Florida - a 28-yard grab of a Rex Grossman pass with 8:15 left in the game. It came after FSU scored on a Chris Rix-to-P.K. Sam five yard touchdown pass that cut the Gator lead to 27-13. Grossman threaded the needle between two FSU defenders. For Gaffney, it was his 12th touchdown catch of the season and the 26th of his career. That ties him with Reidel Anthony for fourth place on the all-time list. Chandler closed out the scoring with an 18-yard field goal.
---



| | |
| --- | --- |
| 9/2 | BALL STATE |
| 9/9 | MIDDLE TENNESSEE ST. |
| 9/16 | @ Tennessee |
| 9/23 | KENTUCKY |
| 9/30 | @ Mississippi State |
| 10/7 | LSU |
| 10/14 | AUBURN |
| 10/28 | vs Georgia (Jack.) |
| 11/4 | @ Vanderbilt |
| 11/11 | SOUTH CAROLINA |
| 11/18 | @ Florida State |




| | |
| --- | --- |
| 9/1 | MARSHALL |
| 9/8 | NORTHEAST LOUISIANA |
| 9/15 | TENNESSEE |
| 9/22 | @ Kentucky |
| 9/29 | MISSISSIPPI STATE |
| 10/6 | @ LSU |
| 10/13 | @ Auburn |
| 10/27 | vs Georgia (Jack.) |
| 11/3 | VANDERBILT |
| 11/10 | @ South Carolina |
| 11/17 | FLORIDA STATE |




| | |
| --- | --- |
| 8/31 | ALABAMA-BIRMINGHAM |
| 9/7 | MIAMI |
| 9/14 | OHIO UNIVERSITY |
| 9/21 | @ Tennessee |
| 9/28 | KENTUCKY |
| 10/5 | @ Ole Miss |
| 10/12 | LSU |
| 10/19 | AUBURN |
| 11/2 | vs Georgia (Jack.) |
| 11/9 | @ Vanderbilt |
| 11/16 | SOUTH CAROLINA |
| 11/23 | @ Florida State |




| | |
| --- | --- |
| 8/30 | SAN JOSE STATE |
| 9/6 | @ Miami |
| 9/13 | WESTERN MICHIGAN |
| 9/20 | TENNESSEE |
| 9/27 | @ Kentucky |
| 10/4 | OLE MISS |
| 10/11 | @ LSU |
| 10/18 | @ Auburn |
| 11/1 | vs Georgia (Jack.) |
| 11/8 | VANDERBILT |
| 11/15 | @ South Carolina |
| 11/22 | FLORIDA STATE |